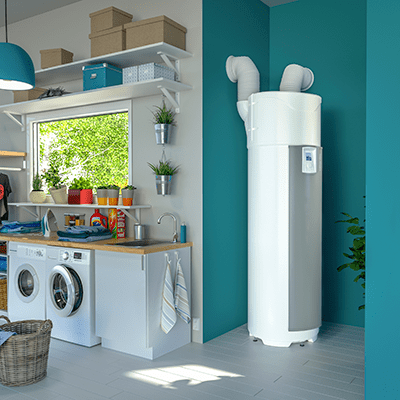 Discover the Atlantic Explorer, a quiet hot water heat pump water heater equipped with ACI hybrid anti-corrosive protection to ensure optimism energy savings. 
The Explorer hot water heat pump water heater is easy to install, transport and operate. Enjoy a premium heating experience with the Explorer.
Say hello to the Atlantic Vertigo, a sleek, space-saving water heater with ultra-slim, flat design and multi positional installation capability.
The Vertigo flat wall mounted water heater is a long lasting, compact water heater designed to maximise your water heating comfort in even the most confined spaces. 
Why hot water heat pumps?
A heat pump produces between 3 – 5 times the amount of renewable energy than electricity required to power the unit. It's an environmentally friendly hot water option given the reduction in greenhouse gas emissions through less energy requirements.
What is a hot water heat pump?
Heat pump water heaters use energy from the ambient air temperature to heat water which is stored in an insulated hot water cylinder. This is the same technology used in heat pump air conditioners and is efficient even in low temperatures.